Dog Car Ramp Solutions for Our Giant Dogs
A dog car ramp is a wise choice for your Great Dane or large breed and I'll explain.. Plus offer our opinion on the best ramp choices for Great Danes & large breed dogs.
A dog car ramp.. seriously?
"But our Great Dane is almost BIG enough to just step up into the truck!" Indeed he is and the word that raises a flag in that typical statement is "BIG". Fact is that the wear and tear our "BIG" dogs put on their bodies simply by being "BIG" adds up quickly. And, that anything we can do as "BIG" breed owners to prolong the joint health and overall well being of our dogs should not be overlooked.
An example..
If your like me your dog is your best buddy and compadre that loves to hit the open road. Doesn't matter where I'm going, down the street for a coffee, to drop of a check at our bank's drive through window, or just running around town. My big guy is riding shotgun, eyes peeled waiting to spy another dog, horse, wild turkey, or the simple things that make his day!
On average, we may run off on errands three or four times a day and doing the math.. That's about six to eight times in & out of my truck's extended cab every day. Over the course of a year, we're talking 2,500 to 3,000 24-inch jumps!
It's no wonder that many Veterinarians recommend a dog car ramp to maintain healthy joints and lessen the chances of other age related issues like canine arthritis. Sure Great Danes can easily leap up and jump down from your car or truck, but the long term health effects on such a heavy dog are sure something to consider. Using a dog car ramp after an afternoon at the dog park will also save you from ruining your back while trying load your exhausted Dane back up into your truck or SUV. Those with Great Danes that are "long in the leg", over 36-inches to the withers, may notice their dogs always seem to have a harder time getting those rear legs up.. Never mind trying to scratch their ear without sitting down:)
About Dog Car Ramps
If you've researched or have been thinking about dog car ramps, you may have found there are basically three different types. Telescopic, folding and hitch mounted each with its own unique features and benefits. Note that all the ramps on this page are wonderful choices for for Great Danes! As always here at all about Great Danes, the products we feature are correct for Danes and the lowest prices we know of. All ramps on this page include FREE SHIPPING which is a major savings when considering shipping cost for packages this size.
Our Favorite #1 Dog Car Ramp for Tall Vehicles or Pickup Trucks
Solvit Delux XL Telescoping Dog Ramp has the length needed for tall vehicles.. And SHIPS FREE!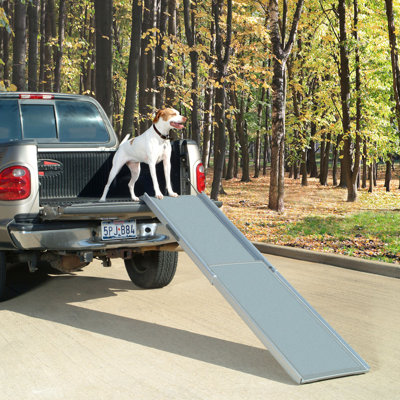 Deluxe XL Telescoping 87" Pet Ramp
This XL telescoping dog ramp can be used retracted (48"-long) & extended (87"-long), or anywhere in between if space is limited. Measuring 20"-wide this is one of the widest ramps you will find. The ramp has a non-slip walking surface and convenient carry handle. Rubber feet keep the ramp in place and a safety latch prevents accidental opening. We really love the this ramp for its GREAT DANE SIZE as it easily accommodates our GIANT breed and for its convenience, no need to fold & unfold:) Amazingly, this 18-pound ramp can hold over 300-pounds.. More Info .
For Medium Height Cars & Trucks, Our #2 Dog Car Ramp Pick Is..
PetSTEP Folding Dog Ramp.. PetSTEP also ships FREE!
Folding 70" Pet Ramp Color: Graphite
The PetSTEP is a folding ramp made of non corrosive polypropylene. This dog car ramp is rated for up to 500-pounds and has a non-slip rubberized coating. Weighing 18.5-pounds this ramp is 18"-wide, by 70"-long when open and only 35"-long when folded allowing for easy stow-away. PetSTEP Additional Info .
Have a Vehicle With A Trailer Hitch? This is The Best..
Twistep Hitch Mounted Rotating Dog Step acts like a step up into your truck or SUV.. We love this thing and you guessed it.. FREE shipping!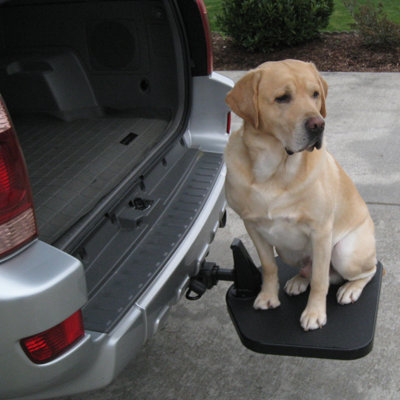 Portable Pet Twistep SUV 22" Pet Ramp
TWISTEP, while not a dog car ramp, is a multi-use step that helps your dog get in and out of your SUV. It attaches to the hitch receiver of your vehicle and stores under the bumper when not in use. Twistep provides your pet with lower-impact, lower-stress access into and out of your vehicle. Repeated jumping into and out of a vehicle can aggravate or even cause serious conditions like arthritis, leg injuries, back sprains and other damage. And lifting a large dog into a vehicle is not easy! Twistep can help dogs of all ages. Learn more about Twistep here.